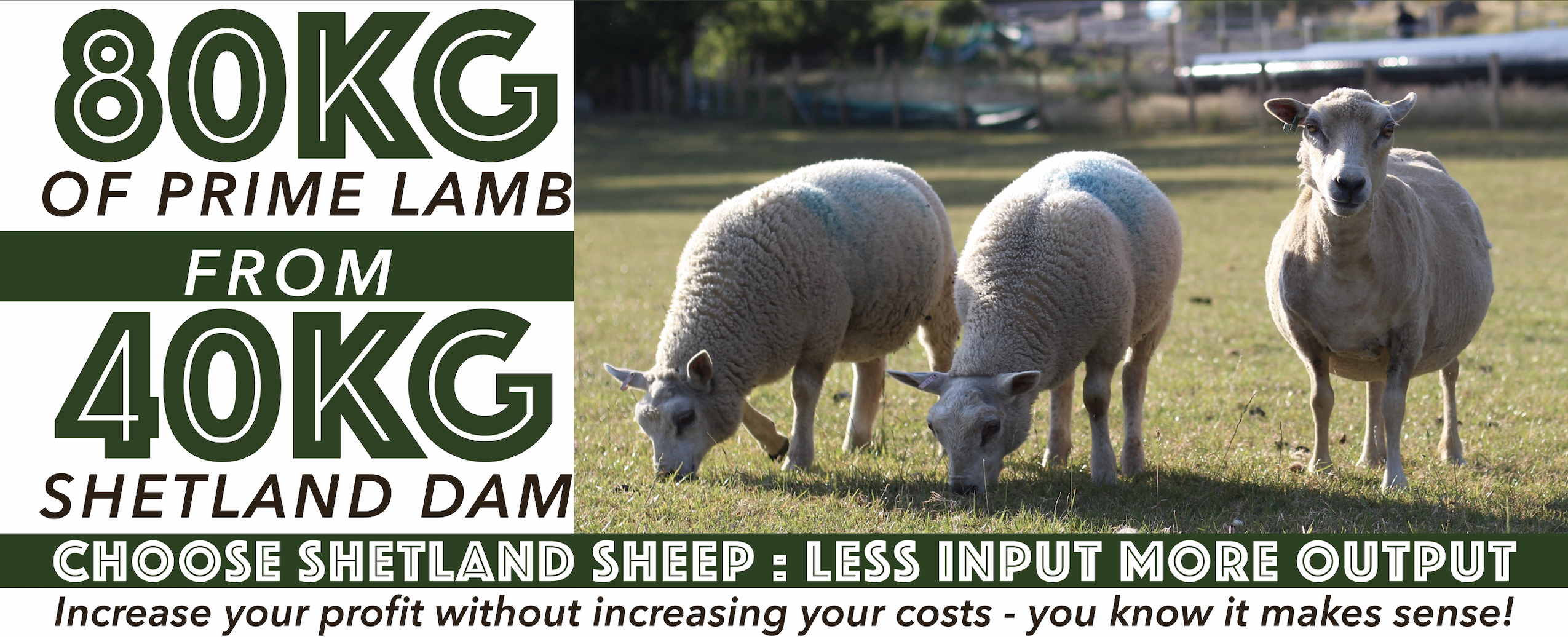 Less Input More Output
The hill ewes of this hardy British breed will live and thrive outside and have good longevity. Shetlands have a superb mothering ability and are very milky. Lambs have a strong will to live and are renowned for their 'get up and go' – they are quickly on their feet and suckling.

Shetland ewes can be stocked at a higher rate than larger breeds, and the ewes cross onto any large terminal sire including Texel, Charollais, Suffolk, Beltex, as well as Innovis meat sires (the Abermax and the Primera). They also lamb easily to all maternal sires - Lleyn, Poll Dorset, Bluefaced Leicester, Teeswater, Cheviot and Innovis maternal sires (the Aberfield and the Highlander). Shetland x Cheviot is one of the best known and proven crosses, especially for breeding replacement ewes – the progeny when put to a texel ram or similar breed make quick maturing, superb
quality butchers' lambs.

Shetland ewes are very efficient, with those rearing twins able to rear twice their own bodyweight in lambs. They are also able to produce prime lambs that both fatten easily and grade well due to their correct conformation.

Shetland rams are often used on well grown commercial ewe lambs, producing excellent progeny and giving an easy first lambing. Vasectomised Shetland rams make great teaser tups for use in synchronising large commercial flocks.

Images above are examples of quality female and male Shetland Sheep; final image shows commercial hogg with Shetland x lamb at foot.
Finishing Weights
With any terminal sire, the majority of crossbred lambs from twin sets can consistently make 38 - 40 kg, grading out at R3L or better. E and U grades are also easily achievable with certain terminal sires. Purebred Shetland lambs are ready at 25 - 35kg live weight and can hit these weights off autumn grass. The Shetland's high meat to bone ratio means that both crossbred and pure carcasses can achieve a killing out percentage of more than 50%.

The display of Shetland x Beltex lambs on the Shetland Sheep Society Stand at the 2019 NSA North Sheep Event
Why Choose Shetland Sheep?
Efficient & Profitable

- low cost and time input produces a more profitable output
Adaptable - Shetland sheep can successfully adapt to a range of farm systems
Hardy - can live and thrive outside 12 months of the year in most locations
Thrifty - can survive on poor quality grazing and a higher stocking density can be used on fertile pasture
Prolific - with fecundity rating of about 160% and lambing rates comparable to modern breeds
Easy lambers - intervention is rarely needed
Lively Lambs - lambs have a strong will to live, get up quickly and feed with good outside survival

Easy to Handle

- require minimal facilities

Successful Crossing

- ewes will successfully cross with a terminal sire - producing good medium weight butchers' lambs

Meat

- lean with superb flavour and fine texture

Lamb

- purebred lambs kill out at 12 - 17 kg October to January - ideal for small family cuts

Hogget

- hoggs kill out at 16 - 20kg in April/May at 12 - 14 months of age
Mutton - sublimely flavoursome, lean meat
Wool - high quality wool, finest of any British breed - ready market for fleeces and popular with handspinners
Colour Diversity - wide range of colours and markings